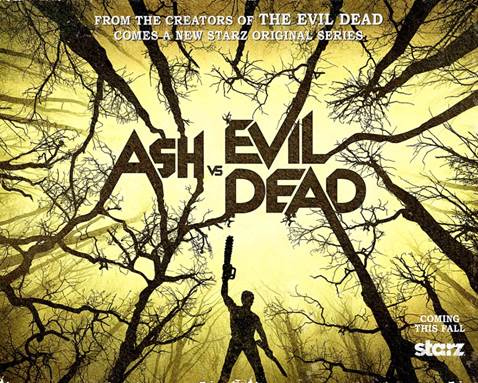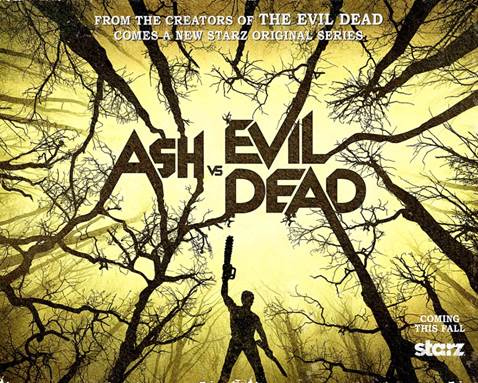 The first episode of "Ash Vs Evil Dead" was hilarious and terrifying at the same time.
Bruce Campbell is back as Ash, the now older and very much over confident goofy womanizer. He lives in a trailer and works at a hardware store. It's been 30 years since the horror was unleashed from the book of evil. Unfortunately, Ash has to learn the hard way once again. After spending a night with a woman in his trailer, high as kites, they both read from his demonic book.
It begins again.
After experiencing visions, Ash wants to escape the town before things get out o control. Unfortunately for Ash he must stay put and help out a few friends, Pablo and Kelly, and as much as he does not want to go back to his old ways to defeat the Evil that is out there, he simply has no choice.
Aside from the laughs, "El Jefe" was very scary. After a 911 call to a house, Detective Amanda Fisher experiences the evil spirit first hand as it kills her partner and almost takes her life as well. There were instances where you would jump for fear as the evil spirit would consume people and they would pop up in a flash in front of the screen very creepily. After detective Fisher's experience, she too now experiences the same visions as Ash. We do see a short appearance from Lucy Lawless, who will become a regular on the show. It will be interesting to see what her character will bring to the table.
Towards the end of the episode, Pablo and Kelly seek help from Ash at his trailer. While they encounter the evil spirit which has consumed one of Ash's neighbor's, they are in a fight for their lives. The episode takes a twist and gets interesting when Ash decides to fight back and turn to his old ways by busting out his vintage shotgun and chainsaw. Some of the special effects were a bit over the top, but the execution and the way the episode was shot made up for some of its flaws.
Sam Raimi did a wonderful job of putting together an episode that will leave audiences excited, especially if they are fans of the cult classic "Evil Dead Movie." So far this season is off to a good start. The characters are enjoyable and Bruce Campbell is an absolute riot. Sure you can't take him seriously, but the beauty is that he lights up the screen with his idiotic personality and clumsy humor. The best is certainly yet to come.