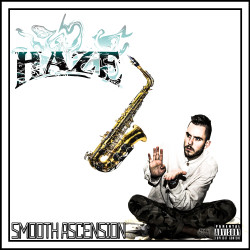 Review Fix chats with Arizona emcee and saxophonist Haze who discusses his newEPÂ Smooth Ascension. Playing saxophone by age six and performing live at Phoenix venues by age eight, Haze resolved to take his music seriously after his mother committed suicide when he was 17, honing his combination of rhymes and saxophone.
Review Fix: How did you marry your two styles?
Haze: Well I started playing the sax when I was six years old. I immediately fell in love with it. Before picking up the sax I had no idea how amazing Jazz music really was. It was a new and exciting outlet for me. I loved being able to improvise and jam out crazy solos with my sax teacher and mentor, Doc Jones. Every once in a while he would open up his studio to a few local Hip Hop artists for them to record while we practiced. So he would be going back and forth from room to room, helping me with my sax and also helping the Hip Hop heads learn how to record themselves. I remember when I was probably ten or eleven years old, I was just starting to get into Hip Hop, and one of the dudes started recording his verse and I could hear him through the glass screen. I really liked his style. I was warming up my sax at the same time, going through all my scales, and I remember thinking that the two together sounded really dope. I mentioned to my teacher, Doc, when he came back in the room that I wanted to start rapping as well. I told him how I had been writing raps at home. I would write them in my class notebooks so when my mom came in to check and see if I was doing my homework, it looked like I was. At the time, my parents didn't even think I was listening to Hip Hop music. I didn't want them to know because I knew that they didn't really understand it. Anyways, that night after our hour lesson, he put me in the booth and let me rap my little verse. After we recorded the verse, I played a little melody on the sax and that was a wrap. I was sold. This is what I was supposed to be doing. Doc always had faith in me and encouraged me to think outside of the box. Without him I may have never had enough faith in myself to go ahead and fuse the two styles in the first place.
Review Fix: How do you feel about rappers that aren't as musically inclined as you? Do you feel they could be better at what they do if they were trained to read and understand music the way you do?
Haze: The funny thing is I actually hate reading notes. It was always a struggle for me, Doc would constantly try to make me sit down and learn all the notes for a particular song but once I figured out what key the song was in, I would just end up improvising on my own. I was a difficult student. I would get bored very easily and was stubborn to say the least. To me, reading notes felt like an academic ritual. I just wanted to jam! After being at school all day and then going straight to practice, it was hard for me to focus on the tedious act of learning all of the notes. To this day, I know how to read notes but I prefer to play by ear. All of the sax parts on my EP were all improvised in the studio. Some of them required many takes, but I played it all by ear. In the future, I will most likely go back to the basics and re-teach myself how to sight-read, but for now I rely on my improvisational skills. I must say, people seem to enjoy it. If I'm being honest, I'm definitely not one of the most skilled saxophonists out there if you imagine how many amazing saxophonists there are. But I know how to make it work. You won't hear me displaying the most technical riffs, but I always hit the audience with my own unique, weird, and whacky style that gets people's attention. I know how to make my skills (or lack thereof) work within whatever song I'm playing. I play every day and I never stop challenging myself. That's the best thing I have going for me. I may not be the most skilled saxophonist in the world, but I work twice as hard as the next guy and I refuse to make anything that's mediocre. As for successful/talented rappers who aren't as musically inclined as myself, I find it very impressive that they can rap as well as they can. For me, learning how to play the saxophone was part of the process for learning how to rap. It's one and the same. I developed my sense of rhythm through learning all of the different types of notes (full notes, half notes, quarter notes ect.) Learning about Jazz music was fundamental in my understanding of Hip Hop music and even Hip Hop culture in general for that matter. Once you devote yourself to the music it becomes a part of who you are, the way you walk, the way you talk, even the way you think. It becomes embedded in your brain through repetition. For rappers who are looking to improve their craft, I would definitely suggest becoming a student of the music. Learn an instrument. Even something simple like a recorder or a harmonica. What you may find is that it all translates the same. There's no way it couldn't help.
Review Fix: What makes Smooth Ascension special?
Haze: I'd say the most obvious thing that makes the Smooth Ascension EP so special is that I'm both rapping and playing the sax. I don't know of any other rapper on the scene right now that does that. I feel like when you hear Smooth Ascension it's not necessarily something that you can ignore. My style demands your attention. Similar to the way I play sax, my lyrics are very direct. I'm told from listeners that unlike many other rappers, you can actually hear most to everything I'm saying in my songs and that my content is relatable. Also, one major thing that sets me apart from many other "artists" is that my art is not ego driven. I see so many rappers out there doing this for all the wrong reasons. I'm not out here trying to say that I'm the best at anything. I just want to play my songs and help people along the way. I feel like I have a good message for almost any listener out there. When I was seventeen I lost my mother to suicide. She was my biggest fan from day one, and was always the person who made sure I made it to all of my sax lessons every week. She was a huge motivator for me. So when she passed away it was beyond difficult, but it was then when realized that I have the potential to do something bigger than just make music that people can dance to. I realized that it is my sole purpose in life, better yet my obligation to make music that can uplift people who have experienced similar hardships. I have been to hell and back, I've seen some terrible things, but I'm living proof that you can always come out on top. With everything bad that happens, something good always comes from it. We are designed to rise from the ashes like a phoenix. That's what Smooth Ascension is, literally ascending to a higher position in life and overcoming all those obstacles with flying colors. So when people listen to Smooth Ascension I hope they can see that I am different from the rest. I was put on this earth to help people who need that extra bit of positivity, and Smooth Ascension is my first step on that journey.
Review Fix: What song to you stands out the most? Why?
Haze: I'd have to say that the single "Nothing In Return" stands out the most. The beat was produced by a guy named Bob Rabbit from San Francisco, and when you hear the piano start to play in the beginning of the song it just grabs your attention right away. It strikes an emotional chord that can't really be ignored. It is one of those songs that is a little bit sad perhaps, but even more so uplifting and inspiring. Also, the sax solo at the end of the song is probably the most soulful saxophone material I have ever recorded to date. It was one of those takes where I walked out of the booth and I just knew that it was the one. It definitely couldn't be topped, so I decided right then and there that it would be the single for the EP.
Review Fix: Is there a story behind it?
Haze: Yes, "Nothing In Return" is about the concept of unconditional love. In the chorus I say that "real love expects nothing in return." Even though I am pursuing a professional music career and hope to be able to make a living from it, the prospect of money is not what got me into making music in the first place. That is absolutely not the reason why I do this, so I just wanted to make that clear from the start. When I make a song and perform it for people, I genuinely do it for the love of spreading my art into the hearts of different audiences. If money was the only reason I was making music, I am %100 sure that it would sound terrible. This is not "get money" music. This is "find your soul" music. Also, I feel like expectations can be a tricky thing. Expectations almost always lead to disappointment. So even though I would like to be able to make money and provide for my family with my music, I don't just expect it. I have no expectations for this. All that I'm doing right now is working as hard as I possibly can to better myself and put myself into the right position to succeed. I don't expect to receive any handouts. I truly am doing this for the love. Which is another reason why I've made this EP available for free download! Money sucks, enjoy some soulful music for free. It's all love over here baby.
Review Fix: Bottom line, why should someone listen to this EP?
Haze: You should listen to this EP because, you may not have known this before, but once you hear saxy-rap for the first time, you'll realize that everyone needs and deserves a little saxy-rap in their life. It's something brand new that no one has really experienced before. Don't you wanna be a part of that from the start? Don't sleep. Young conscious artists like myself respect the old school raw-ness that was so prevalent in the 90's, but with that we are able to bring a new freshness to the table. I know from personal experience that people are looking for new unique artists to put on their iPods. Smooth Ascension is definitely a start.
Review Fix: What are your goals in music?
Haze: I was taught to never tell anyone your goals because when you talk about your goals you actually release endorphins in your brain that tricks your brain into thinking you've already accomplished your goals. But for the sake of this interview I will say that I would like to help people gain a positive perspective on situations that call for negativity. And I would eventually like to be able to provide for my family. Right now I have a regular job on the side in order to pay rent, but I would be living out my dream if I were able to cover all of my expenses by simply doing what I love.
Review Fix: What's next?
Haze: The next step on my journey will be to set up a tour around the southwest to help spread my music out a little bit further, and then eventually a tour around the country and hopefully even overseas. Also, I'm about to begin recording the songs I have already written for the next project, which will be a mixtape called Busted Compass. Stay tuned, I think you'll be glad that you did.