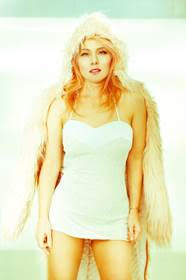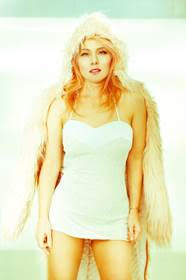 Review Fix chats with actress and singer Meital Dohan who discusses her new music video portrait "I'm Too Sad To Tell You," as well as how she transitioned from film to music. With 12 million combined page views for her last three music videos, Dohan has set the paper even higher. Collaborating with Sean Kingston, Reflex (Kanye West, Kendrick Lamar, Rihanna), R3hab (Lady Gaga, LMFAO, Calvin Harris) and Che Pope (Kanye West, Jay-Z, Eminem), her star potential continues to soar.
Review Fix: When did you make the switch from acting to music?
Meital Dohan: Well I'm very much both an actress and a singer, but music came into my life at an unexpected time. I was in Israel a few years ago participating in 'Dancing With The Stars' and a spiritual guide of mine told me I should make music. Aren't I a sucker? No, I'm not. I didn't believe her, but look what happened.
Review Fix: How do you think your acting career helps you as a musician?
Dohan: It's like transitioning from a sculpture to a painter. It's a form of expression with different material. Of course growing up performing in theatre, film and TV for big audiences helps when all of a sudden you find yourself singing to them, and making some naughty moves.
Review Fix: Who inspires you?
Dohan: I take inspiration from everywhere — a lot of my biggest inspirations span genre and form. I love artists that aren't afraid to say "fuck you" and break the rules. I really love Andy Warhol and Godard — all the way to artists like Nina Simone, Madonna, Prince and Kanye West.
Review Fix: How was  "I'm Too Sad To Tell You" written? What is the song about?
Dohan:Â The song was written by Amos Kollek and was written as part of a sound track to a movie we shot together. It's about love and life almost like every song but with different lyrics.
Review Fix: What's next for you?
Dohan:Â There's so much going on right now, it's quite exciting! I'm recording new music which is always a blast. I have a film project, and another secret project underway – but mum's the word until it's out!