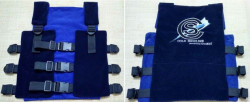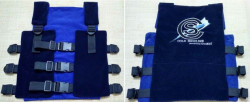 Review Fix chats with NASA scientist and UC Irvine Professor Dr. Wayne B. Hayes who discusses his invention the Cold Shoulder Vest, which uses the body's own natural instinct to stay warm as fuel to burn calories. Featured on the Dr. Oz Show, Hayes discusses the product and his goals for it moving forward.
For More Information on the Cold Shoulder Vest, click here.
Review Fix: What inspired this product?
Dr. Wayne B. Hayes: Tim Ferriss's book The Four Hour Body has a whole chapter on cold exposure and weight loss.  In it he chronicles the story of Ray Cronise, another NASA scientist (whom I've now met) who was experimenting on himself in the mid-2000s using ice baths, cold showers, sleeping without covers, and drinking a gallon of ice water per day.  Using these (uncomfortable!) cold exposure techniques, he tripled his rate of weight loss. My goal was to build an ice vest that also accelerates weight loss, but to have it be comfortable and convenient.
Review Fix: How does it work?
Hayes: If your body is even the slightest bit cold, it needs to burn calories to stay warm.  The science is almost a century old and has been studied in the lab for decades.  Basically, the ice in the vest extracts heat from your body.  Heat is calories.  Thus, the vest directly extracts calories  from your body, and your body has to burn calories to replace those that were taken.
Review Fix: What is the difference between this version of the product (PRO) and the older ones?
Hayes: The Classic 1.0 used about 1 lb. of water ice, and the ice would melt in about an hour.  The new vest uses about 8 lbs of FDA-cleared food-grade glycerin gel, that lasts several hours at a stretch.  So now you can wear the vest for about 4 hours at a stretch if you want.  Of course, it can also help you stay cool in a hot environment.
Review Fix: Who do you think will get the most out of it?
Hayes: Anybody who wants to burn excess calories.  Cold exposure is universally applicable.  Anybody from a buff gym rat to a couch potato can benefit.  We like to emphasize though that the vest cannot replace a good diet and exercise; it can only augment an already good diet + exercise regimen.
Review Fix: How does it feel to have the product on the Dr. OZ show?
Hayes: It was cool.  Dr. Oz is a really smart guy.  He asked me lots of relevant question off camera before we even started.
Review Fix: Bottom line, why should someone buy it?
Hayes: It's a high-tech gadget, cutting-edge technology to help burn calories.  Decades of research have demonstrated that mild cold exposure has so many health benefits that it should be considered as basic and as important as diet and exercise.  My fondest hope is that in 5-10 years, mild cold exposure will be as well-known a household idea as diet and exercise as part of a healthy lifestyle.