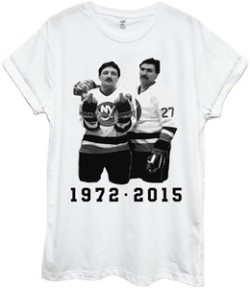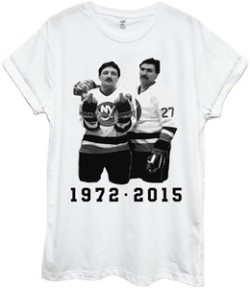 Review Fix chats with the Founder and CEO of New York Bootleg, Travis Reilly, who discusses his awesome, tongue-in-cheek New York Islanders clothing line. Reilly also discusses the brand's goals for the future and some hockey.
For more information on the T-Shirt Line, Click Here.
Review Fix: What was the inspiration for this line?
Travis Reilly: I'm a big Isles fan and I've always felt like there was a market for fan shirts that nobody was taking advantage of. The team store isn't going to sell a shirt with Clutterbuck on it that says 'Suck It, Ovie' or Trotts & Tonelli flipping off the camera. But I think that's the kind of stuff that fans get a kick out of and can get behind. I can be creative and I don't have to worry about designs being too edgy.
Review Fix: Any plans on adding more designs?
Reilly: Yeah, for sure. The line is still very new, though, so I still need more eyes on the current product before I introduce new designs.
Review Fix: How have fans responded?
Reilly: The feedback has been 99% positive, there're a few people here and there who want to play attorney and ask me if I have permission to use likeness and such. I highly doubt millionaire hockey players are going to have an issue with a fan making support shirts and making a small amount of money in the process, you know?
Review Fix: You guys have pics with players on your Instagram, how have they responded to your work?
Reilly: Yeah, I sent a few shirts to the Greiss family and they're really stoked on it. At the moment, I think that's the only player who is aware of the line. I'm hoping to get JT & Clutterbuck their respective shirts sometime soon.
Review Fix: Any chance you'll eventually have fat dude sizes? 4X?
Reilly: Haha, that's funny you ask, I had someone message me the other day asking for a 7X. The next time I have to print shirts, I'll see if we can toss in a few bigger sizes.
Review Fix: What are your goals for the rest of the year?
Reilly: Get another design and or item out there, and then hopefully something for the playoffs. Obviously above all, I would just love to get some more exposure to help grow the brand.
Review Fix: Should the Islanders be buyers or sellers at the deadline?
Reilly: I think potentially both, but definitely buyers. I would really really like for them to add a power forward type of player that can score, throw hits, and stand up for guys when need be. My biggest issue with Okposo is that he could be in that role, but he's not aggressive enough. I think every team needs a guy like Wayne Simmonds, Blake Wheeler, Scott Hartnell, etc. I think that's what the Isles are missing. It would be great to land another solid D guy as well.
Review Fix: How can people help you spread the word?
Reilly: I guess just sharing our website link on their social media pages, and wearing the shirts at Barclay's. I think people underestimate how effective word of mouth can be.
Review Fix: What's next?
Reilly: Playoffs, I hope.