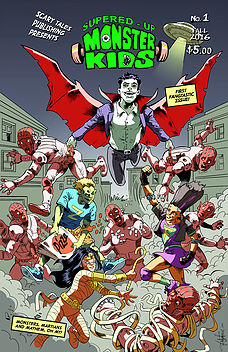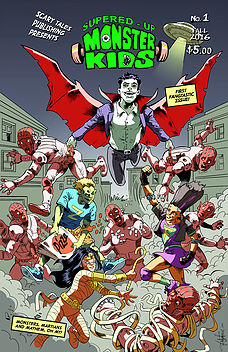 Review Fix chats with Kevin M. Glover, the writer behind Scary Tales Publishing's "Supered-Up Monster Kids," breaking down the inspiration behind the tale and its goals for the future.
About Supered-Up Monster Kids:

Written by Scary Tales publisher and founder, Kevin M. Glover, a life-long monster kid himself, the series promises to deliver light-hearted adventures the whole family can enjoy.  Says Glover, "Think Teen Titans; Transylvania style with sort of an Archie Comics' small town vibe thrown in for good measure.  In their first adventure, the novice heroes must defend their home town from invading Martians.  Talk about launching with a bang!".
This first 20-page issue was illustrated by relative newcomer, Mohamed Fouad.  Even though Fouad hails from Egypt, he deftly adds a comedic, Americanized touch to his panels.  Juanfran Moyano, the front cover artist, is from Spain, so the book is quite an international collaboration.
Review Fix: What was the inspiration for this comic?
Kevin M. Glover: I've been selling my more adult oriented horror comics for almost a year now. I noticed a lot of kids come to my table with the same interest as I might have had when I was a kid.  I thought it would be cool to come up with something they might like and remembered this concept I'd tried to pitch as a live-action TV show a couple of decades ago.  It was a mash-up of monsters and superheroes.  Sort of Teen Titans, Transylvania style.  I brushed off my premise, revamped it a bit and SUPERED-UP MONSTER KIDS was born.
Review Fix: What comics did you read as a kid and how did they influence this one?
Glover: I was big into DC comics as a kid. Superman, Batman, Green Lantern.  I didn't discover Marvel till my late teen years.  I was also big into monsters, and liked some of the gory B&W monster mags out at the time.   I liked the anthology nature of the stories and the cool twist endings.  My earliest writing and drawing efforts were trying to emulate these comics.  I never did get very good at drawing.  I enjoyed the recent animated series YOUNG JUSTICE and so when I was conceptualizing this series, I wanted a bit of that vibe.  I also wanted the sort of wholesome, small-town Riverdale vibe of the Archie comics, too.   The nice thing about comics as opposed to live action TV shows is you really don't have to think about budget.  If you want a Martian invasion, it doesn't cost you any more for a page than if your adversaries were bank robbers.
Review Fix: What makes the work of Mohamed Fouad different?
Glover: Mohammed Fouad was a great addition to the team.  I'd been trying to find the right mix of whimsy and action and auditioned a number of artists with a sample page from the story.  I was starting to get discouraged until I stumbled upon some artwork of Mohammed's.   Mohammed, who lives in Egypt, got it right off the bat.  You'd think there might be language barriers or cultural differences in interpreting my script into comic art, but Mohammed definitely gets the tone I was shooting for and understood my various references.
Review Fix: Who do you think will enjoy this comic the most?
Glover: I've already gotten some great comments from kids, boys and girls alike, and some parents.  The kids likes the action and humor and some of the parents told me they liked the nostalgic flavor of it.  Older kids, say 13 plus, might enjoy my gruesome stuff more, but younger kids with a love of monsters, really seem to get a kick out of this.   I'm working on the next issue now, but it's kind of a long process.  I'll have the next script done in about a week, but it takes a couple of months for the artwork.
Review Fix: What's next?
Glover: As a company, Scary Tales has mostly been focusing on anthologies, but the initial success of SUPERED-UP MONSTER KIDS is helping me explore some other long format comic books.