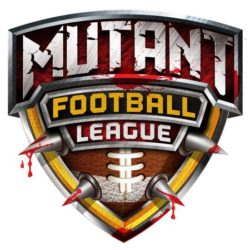 Review Fix chats with the team behind Mutant Football League, who discuss smashing through their Kickstarter goal in less than a weekend and how it feels to have the game on its way to release. The spiritual successor to the cult classic Mutant League Football on the Sega Genesis, the team, led by MLF creator Michael Mendheim, has some big shoes to fill, but from what we've seen so far, Mutant Football League looks primed to be another cult classic.
To contribute to the MFL Kickstarter, Click Here.
Review Fix: How does it feel to meet your Kickstarter goals so quickly?
Michael Mendheim: Hi Patrick, great to talk with you again. You know how it feels? It feels fantastic. I'm so happy for the project, our team, the community. It's nice to finally win one of these things. WOO-HOO!!! Releasing the Sneak Peek Preview was the key. We placed it on the $1.00 tier, which is usually reserved for the virtual hug or the thank you. For a buck, we give you a steam key and you can play MFL on the PC if you have an Xbox one PC controller or DualShock 4 and bust some mutant heads. Here's the link for your readers. Everyone reading this should finish the article and then go play and if you like the game, throw some money down and pre-purchase it.
Releasing the Sneak Peek Preview was one of the riskiest things we've ever done because the game is pre-alpha, so there are bugs, AI issues, the list goes on and on. My business partner, Maxim Novikov and I looked at each other before deciding to do it and said it's either going to work or be a disaster and sink us. We were out of options. It was the only card we had left to play. So we went for the Hail Mary play and scored. Fun prevailed over bugs. We did the campaign because we were running low on funds and we need to get online done. That's the last major feature and we've been working on it for a while now. We can't ship without online play.
Review Fix: How much validation does this give you considering EA's stance on the series for so long?
Mendheim: Absolutely none. EA has done nothing to prevent us from making this game. There is no animosity towards EA at all. I'm a fan of EA and I purchase their product all the time. They retain their rights to the characters and audio/visual presentation of the original game. We're not re-making the original game. We're making a different game, with different teams, characters and features. The new game is much faster paced and brutal than the original. We wanted to capture the spirit and humor of the original and based on the feedback we've received, we're doing that.
Review Fix: For those under a rock- what makes this game so special?
Mendheim: MFL is a fast paced arcade football game. Think NFL Blitz with monsters, mutants, chainsaws and death. It's a party game, best played with friends (over some beers). If you like to compete, enjoy mayhem, laugh and scream – this games for you. It's insane!
Review Fix: What has development been like?
Maxim Novikov: Chief Technical Officer: The development of any game is not an easy process, but it's been fun and interesting. We are developing the game in Kiev, Ukraine and I'm in charge of the studio out here. Michael is in Chicago and we talk daily. He also travels out here to work with us. Developing MFL has been different than other project I've ever worked on. Mostly it's because we have to deal with Michael's extreme passion and insanity on a daily basis – it's exhausting! Everyone has to give all they've got just to keep up with him. But it's been working. We're such a small team, building a complex football game which we didn't understand at first. When we started we couldn't understand these crazy rules. The game made no sense. First down. Encroachment. What are these? Now we understand the game of American football.
Review Fix: How does the Mutant Football League push the envelope in ways its predecessors never did or couldn't?
Novikov: The original game was created a long time ago, almost at the beginning of the Video Game console era, and so many things have changed since then. We now can deliver amazing visual effects, realistic physics, dynamic lighting and shadows, I could go on all day. But the biggest thing is, you can play MFL online. With that alone there is no comparison.
Review Fix: How does it feel to have so much support from the internet gaming community on this?
Chad Nimmo: Social Media Director: It feels great. Â The community is so eager for this game. Â And the fan base is growing every day. Â We have people who have been with us since the first crowd-funding adventure, all the way to people who just found out about us during this successful Kickstarter; and they all want the game right now. Â I think that's one reason our campaign was successful. Â So many are chomping at the bit for this game that they wanted that demo now, they want beta and alpha access so they can play the game now! So yeah, it feels great to have a community of fans that want your game so bad, and are so willing to support it to make sure they get it.
Review Fix: What makes this development team special?
Novikov: We are a small independent game studio, and when we had the idea to make this game, we had no people or money to do it. But the desire to make this game was so big that it attracted people. Our team is small, but consists of very experienced and talented people. Many of them sacrificed their secure and well-paying jobs in a big companies to work on this project. The reason they did this is because they believe in it. They believe in the game because of Michael's passion. The Game has such a unique and fun concept.
Review Fix: What's next?
Mendheim: Well now we have to deliver on our promise.