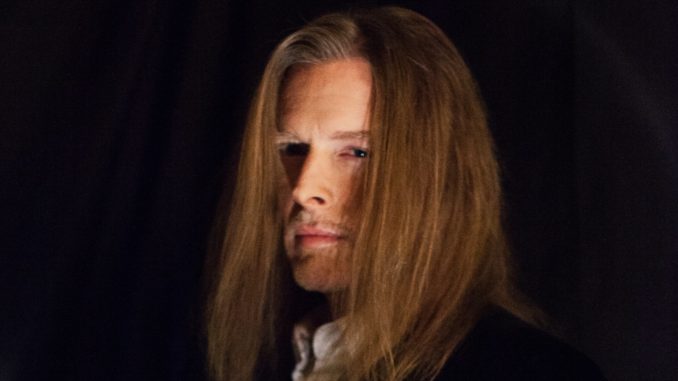 Review Fix chats with singer/songwriter Christopher Sluka, who lets us know all about his creative process, goals for the future and his new single, "Number One," off his new album, "Colorfull Radiation."
About Christopher Sluka:
San Diego-based rock artist, Christopher Sluka, presents an enigmatic and unique experience on all ten tracks of his new album, "Colorful Radiation." With ten critically acclaimed albums behind him, including "Emotional Battlefield" and "Fear of Ordinary Life," Sluka continues to create highly imaginative and inventive music inspired by his worldly travels and cosmopolitan upbringing. His career has spanned a multitude of different phases, maturing and growing as he has, beginning in the hallowed rock clubs of New York City's underground music scene and eventually taking him all over the world from Los Angeles to Japan and back again. While his music is uniquely attuned to the thoughts and melodies living within him, he's found bits and pieces of influences scattered throughout from artists such as Coldplay, David Bowie, and Radiohead, to name just a few.  His live performances, amplified by his passionate vocals and eccentric charm, have been well received by audiences and praised by critics— creating a career built on his intense dedication to his craft instead of the search for fame.
Review Fix: How did you get involved in music?
Christopher Sluka: When I was 8 years old I received a guitar as a present and I was mystified by the magic one could create.
Review Fix: Who inspires you the most musically?
Sluka: While The Beatles and many others were inspirational when I was younger, I've come to the realization that we are all inspired & influenced by everything we are exposed to, with both positive and also negative reactions.
Review Fix: How would you describe your sound to someone who has never heard you?
Sluka: Melodic, emotional, provocative,… surprising in some ways, yet hopefully comforting as well. Like most people, I am drawn towards music that takes you away… and allows your mind to soar. I know that probably doesn't really answer your question. Other than "Rock", there really isn't any trendy term I could apply such as "Classical Gothic Post Modern Rock Punkadelic Pop"…. wait… that's it!
Review Fix: What was the creative process for Number One?
Sluka: The voices of all the parts came to me all at once; melody, lyrics, instrument parts, arrangement… like voices. I didn't think about it. It was just there. I'm not trying to be mysterious, that's just how it happened.
Review Fix: What makes Colorful Radiation a special album?
Sluka: Like Number One, the rest of the album came to me in its' entirety, including the song order. It's as if the voices gave it to me, and it kept playing over and over in my head incessantly until I finally rehearsed & recorded it in a mad frenzy. Strangely, it felt like I was performing in a band. As I laid down each track I imagined I was playing with all the other musicians at the same time, like we read each other's minds. And, as a matter of fact, we did, they were all mine…. I know, I know… It sounds like a split personality condition. But don't we all have different personalities depending on our activities? We are often different people with our friends than we are with strangers, or business associates, or family, or lovers. Â Similarly, I have different personalities depending on which instrument I'm playing, and also within a particular song.
Review Fix: How do you want it to be remembered?
Sluka: As a reflection of our current times that may resonate with others in the future.
Review Fix: What's next?
Sluka: I'm waiting to hear what the voices say next.
Review Fix: Anything else you'd like to add?
Sluka: Yes, sometimes the voices drive me crazy. Do you happen to know another way, other than recording an entire album, to make them subside?