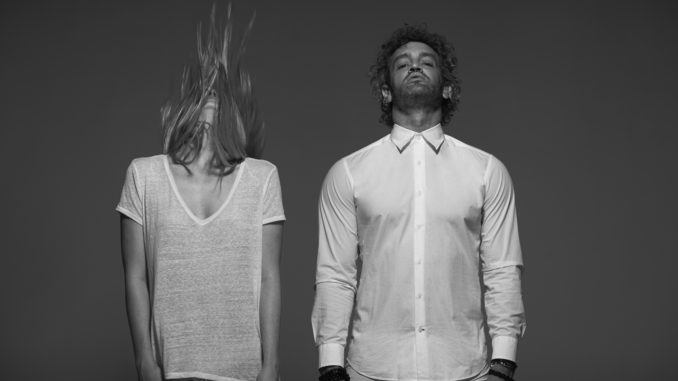 Review Fix chats with The Rigs, TJ Stafford and Caitlin Parrott, who detail their origin in music and new single, "Fall or Fly."
Review Fix: How did you guys get involved in music?
CP: I grew up in a musical family. My mom was a singer and my dad was the front man in a Christian Country Rock band my entire childhood. I was only 3 or 4 the first time I set foot in a recording studio. I started composing silly songs on the piano when I was maybe 7 or 8 and then started writing for real when I was in high school and my dad bought me my first guitar. It was a Big Baby Taylor that I still write with today. I think music has always just been a part of me. I was singing as soon as I could speak and I still feel like I communicate best through writing, so songwriting has really been the way that I've processed emotion and dealt with pain or told stories I've wanted to tell for just about as long as I can remember.
TJ: My mom put a guitar in my hand when I was 5 and made me start taking lessons. The rest is history.
Review Fix: What makes this collaboration different for you guys?
CP: History. Tension. Friendship. Tj and I knew each other and even played in other bands together for about a decade before we ever decided to write together. By the time we decided to write, we had so much history to pull from. So much built up tension to be released. I think we also both came to it after trying so many other things that we'd both really found our artistic voice individually and collectively by the time we formed The Rigs. Also, our producer Smidi is like the icing on the cake. He is truly the most talented and humble man on the planet and he has been so incredibly integral in our formation and development.
Review Fix: How has your sound evolved since you started the band?
TJ: I think we've just expanded our palette a little. We've branched out from the confines of folk rock and added in a little flavor. We're still "us" but we haven't been afraid to get creative.
Review Fix: What makes your brand of rock special?
CP: I think the fact that we haven't been afraid to step outside the normal confines of "genre" has placed us in a unique category. That coupled with our unique voices I think sets us apart. It's kind of fun when I play our stuff for people and their reaction is, "Oh wow. I haven't really heard anything like you guys." It's sweet and angry and honest and emotional and real. It's basically like life.
Review Fix: Why do you think people should enjoy it?
CP: I would hope that it resonates with people. Every song captures a different feeling or emotion pulled from the human experience. That, and I think its just good music.
TJ: It's diverse enough to be interesting and consistent enough to familiar.
Review Fix: What inspired your new single, Fall or Fly?
TJ: It wasn't a particular event so much as a life stage.  In a broad sense it was birthed from the idea of being ok with disappointing people. We've both reached a stage in life where we're only surrounded by people we admire and respect, and it's taken awhile to get to this point relationally where we've filtered people and relationships out that don't serve our best or make us better. The flip side is that, to live really honestly, you're inevitably gonna disappoint people who don't agree with you. That's not a problem when you don't really care about the opinions of the people in your life. But when your life is only filled with people you respect? Living honestly becomes much more real. And in the context of a romantic relationship? Shit. Being able to look your loved one in the eye and say, "I know you don't like this but this is me," as opposed to catering to my first instinct, which is to just make them happy…that's hard, for both parties. It's freeing, but hard. That's where real life is. Thus the line " We live or we die on the edge of a lie."
CP: There's so much power in that moment when you decide to expose all of yourself to another person. There's so much unknown hanging in that tension. Not knowing how you, in all of your vulnerability, will be received by someone whose opinion of you means everything, is terrifying. To say the least. This song captures those feelings right before the truth is uttered. And it kind of feels like getting ready to jump off a cliff.
Review Fix: What has it felt like to see your work featured on some great TV shows?
CP: Amazing. Humbling. Like dreams coming true. Every time.
Review Fix: How do you want that song to affect people?
TJ: We hope that all of our songs affect people in the way that THEY need to be affected. The consumption of music is so personal. We, of course, have our perspective and goals when writing it, but that always gets diffused thru the lens through which the listener views the world and thus the same song affects everyone different. That's a really beautiful thing.
Review Fix: What are your goals for 2018?
CP: Keep writing, hopefully, play an LA show, just keep building on this cool
foundation.
TJ: To read The Count of Monte Cristo in its original French.