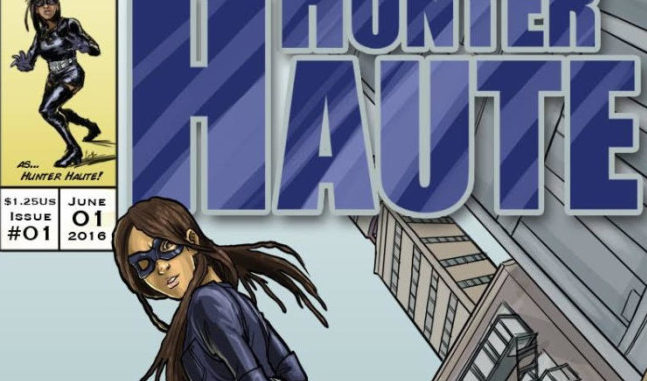 Review Fix talks with Kosi Harris, her inspiration for her latest project and what her plans are for the future.
Review Fix: When did you become interested in comics?
Harris: Ever since I was 10, I think shows like XMEN and Batman the Animated Series also helped. One of my brothers also had a copy of the Dark Phoenix Saga so I would read that a lot.
Review Fix: How did you come up with the idea Hunter Haute?
Harris: I ended up attending NY comic con about 6 years ago when I was working for a fashion company. A few weeks after that I was prepping for a trade show and then the idea just popped into my head using a lot of my past fashion experience and a renewed love for comics. At first, it was just long pages of outlines: character development, storylines for issues. Then I shelved it…2 years ago I happened to clean up my computer and ended up seeing the outline and modified it and decided to try to make this into a reality.
Review Fix: Who are your favorites in the comic book world now?
Harris: La Borinqueña created by Edgardo Miranda-Rodriguez.Moon Girl (Lunella Lafayette). I love that Lunella power is her advanced intelligence. She is dubbed the "smartest person in the whole world", making her smarter than Bruce Banner and Reed Richards. I have a 6-year-old cousin and a 7-year-old niece, I just love they have Lunella as a role model seeing that their intelligence is their ultimate superpower. Penny Rolle, a relative of mine introduced me to the character recently. Penny is unapologetic, outspoken and wouldn't care if she is one of my favorites or not haha. She loves HERSELF, plain and simple. Doesn't care what people think of her I think with what women are dealing with right now we need to see more characters like that.
Review Fix: If you could go anywhere at any time in history where would you go and why?
Harris: The 90s but enjoying the decade as an adult, when MTV actually had music playing. There was no social media, no internet, no iPhones… You were forced to communicate with people the old fashioned way via phone, handwritten letter or face to face. Technology didn't take over people's lives.
Review Fix: With the trend of comic books leaping into other media genres, do you see Hunter Haute being an animated series on the small screen or a film on the big screen?
Harris: I think more of an animated series, I can see it being on Freeform but having a similar look to Aeon Flux. Aeon Flux is one of the underrated animated series out there. A perfect blend of action, adventure, humor, and philosophy.
Review Fix: What is the collaborative process like with Phil Buck and Candace Lee?
Harris: It was so much fun. I am grateful to find Phil and Candace. Phil was so helpful with his comic book experience giving me recommendations on how the story should flow. I wanted the comic to appeal to folks who read comics too so I think his input was vital. Where Candace has an illustration background from Parsons School of Design. I wanted the comic book to look similar to fashion illustrations you would see on Instagram, thus introducing folks who typically don't read comics to read issue one pulling them in by the illustrations.
Review Fix: What sort of impact do you want for your comic?
Harris: I want readers to see that you can combine two passions and make set something very special. I used to think that I couldn't be a geek and like fashion. That I had to choose because I was so considered with the way I would look to others. Hiding passions just to fit in makes you unhappy.
Review Fix: What's next for you?
Harris: I was putting a lot of pressure to get Issue two done at the end of this year. And I'm grateful that life didn't plan it that way, I needed to rest! Attending a few comic cons this year really help my expand where I wanted Hunter Haute to go in the future. I am closing 2017 celebrating a great year, focusing on my blog and planning for issue 2 to be released in early 2018.