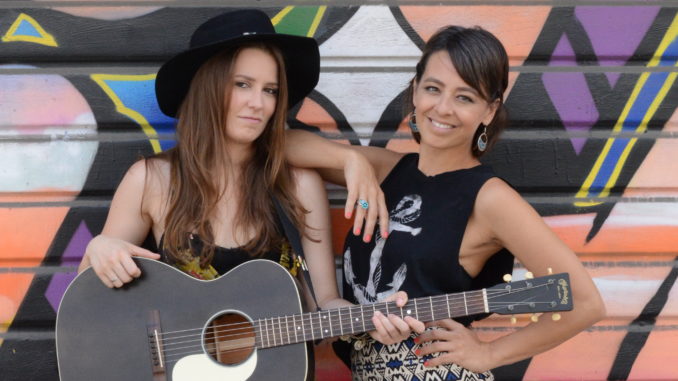 The power duo of Jenny Pagliaro and Angela Petrilli have let nothing stand on their quest to music stardom. Vocalist Jenny Pagliaro showing she's tough as nails, facing down breast cancer and taking the steps to beat it while completing a tour for the band's self-titled debut album. Top that off with having performed sold-out shows in Santa Monica and Hollywood and radio play in Los Angeles makes Roses and Cigarettes less of a band and more a force of nature. Their most recent work is a venture into the acoustic world with their new Acoustic Sessions EP, an unplugged mix of tracks from their self-titled debut album and new tracks for the EP.
Those who may have been fans of the sound of the debut album may be in for a surprise when they listen to the version of "Another Way" the EP offers. The feel of the sound seems to lose the country inspiration and adopts a more 90's LA unplugged alternative rock sound, the kind that makes you remember the days of grunge on "MTV Unplugged". "Feel The Fire", the first of the three new tracks in this EP, is very somber vocally but hits heavy with the instrumentals leaving an impressive sounding track in the wake of such a stark contrast. "Back to You" is a song of unrequited love and is a continuation of the more emotional vocal direction, but adopts a more traditional approach to the instrumental in that it follows the melancholy vocals in tone and feel.
"Echoes and Silence" is the third and final never before heard track on the album. It is a song about change and finding oneself, with a memorable chorus and instrumentals that can only be described as beautifully sad. The final two tracks, "Shelter" and "Whiskey Down" are excellent renditions of their 2015 originals and both retain their country roots. "Shelter" on this album seems to show off the vocal chops of Pagliaro, as her smooth vocals really carry the country soul of the song. "Whiskey Down" on the other hand, has a soul preserved by the excellent guitar of Petrelli where she shows that all it takes to add some percussion is six strings.
"Acoustic Sessions" is a name that does no justice to the overall sound of the EP. From the top the band shows that their work is nowhere near one-dimensional, offering a different look at a track from their debut album right off the bat. This continues as the tracks go on, ending in the familiar 2015 sound that most fans of the band are no doubt accustomed to. Whether it be Pagliaro's strong, raspy, yet solid voice or the rock-solid and robust guitar work of Petrelli, the duo has offered a great addition to their library that fans will no doubt love and give new listeners wanting more than the six tracks given on the EP.