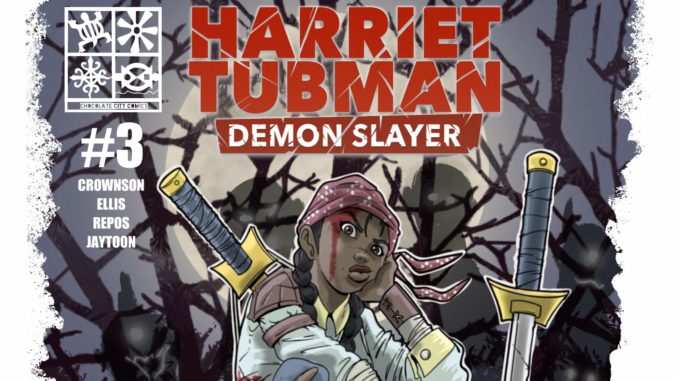 The graphic novel adaptation of 'Kindred' from John Jennings and Damian Duffy holds visual key points and connections to the past in a myriad of ways. Originally written by Octavia E. Butler one scene where the description is brought to life is where Dana, the protagonist who has travelled several times to the past to save her ancestor and eventual slave-master Rufus has been beaten down psychologically and physically by this antebellum period of time.

At one point she does whatever is asked of her until she tries to openly reason with Rufus. He strikes her across the face so hard that her body flings backward. As her face rattles Dana remembers who she is and desperately escapes back to her present time. Although 'Kindred' can be considered a gothic, horror story it is closely related to other historical figures in history. Take 'Harriet Tubman: Demon Slayer." In issue three Tubman is fighting off demon vampires, but before that a man who is enslaved, who has become conditioned by his station is shocked into realizing he needs to escape. It's a defining moment where one of the other characters reminds Caesar that he is owned and not family.
In real life Harriet Tubman was a wonder and in this third installment she lives up to the legend. But it's Caesar and his family who is running from slavery that's the main focal point of the narrative. The separation of the black family, the constant knowledge of being raped, murdered or being sold doesn't enter Caesar's mind until his body and his child's life are in real danger. What writer David Crownson shows is how this is part of the psychological breakdown of the enslaved. However the paradigm shifts as Caesar and his wife Catherine preserve the family by working together. Their egalitarian relationship, this black love is what will sustain them and lead their family to freedom. Then there's Harriet's white son who instead of becoming the white savior helps and mostly takes direction from his mother. Another reminder of 'Kindred' where Rufus questions how Dana can be married to a white man. Once again in this comic-book the script has not only been flipped but turned inside out.
The best thing about comic-books are the visuals and this third issue of 'Harriet Tubman: Demon Slayer' with artwork by Sylvain Redos and Courtland Ellis again bangs it out with the frightening looks of the demon-vampires, the leaps of Harriet and her son, the movement of the woods, Caesar's fierce fight and his wife's look of desperation as she furiously takes the reins. It's a lot to take in and it's all worth it.
Together Crownson, Redos and Ellis are continuing a mixture of historical-gothic drama taking place in a time-period that has yet to be addressed in a national conversation. If you want a realistic visual of the horrors of slavery and those battling against it then this demon slayer is what you need.