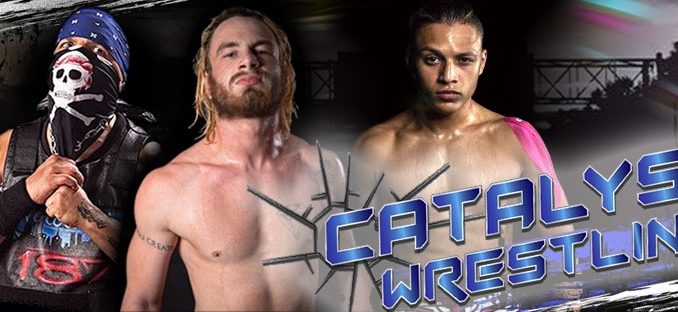 This week's episode was a special birthday celebration for Bobby Orlando and his wild antics. His role in Hot Boiz International as the excentric manager provided some of the best moments in Catalyst Wrestling.
Matches:Â 
Hot Boiz International: Lucky 13 and Eric Martin vs. "The Shamrock Shooter" Killian McMurphy and "The Concrete Rose" Sonny Kiss: Martin rolled Kiss up with an assist from the second rope to score the win. 
Catalyst Wrestling Tag Team Championship Triple ThreatMatch: Hot Boiz International: KC Navarro and Lucky 13 w/ Bobby Orlando vs. The Rising Sons: "Boujee Boy" Griffin McCoy and Jimmy Rave vs. the Catalyst Wrestling Tag Team Champions: The Rep: Dave McCall and Nate Carter w/ Maven Bentley: The Rep did all the dirty work, planting McCoy with the FlapJack Flatliner, but with the help of Orlando, 13 stole the cover and the win.