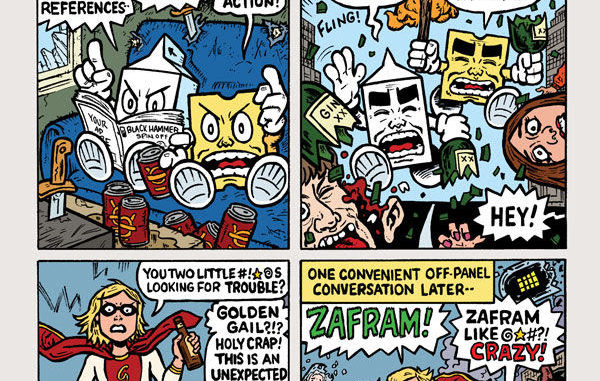 One of the biggest series "Dark Horse" has going is the "Black Hammer" series. It has gotten to the point where even guest writers are throwing their ideas into the series. The newest addition is the "Black Hammer: Visions" series where each issue has one story by a guest writer.
The first issue sees actor/comedian Patton Oswalt with his story 'Transfer Student" with artists Dean Kotz and Jason Wordie. Immediately after their high school graduation ceremony, two girls reflect upon their memories of a mysterious transfer who they knew throughout elementary school and then another girl who looks like her when they were in high school. That girl is actually Golden Gail who lost her ability to gain the powers of Zafram. I
t's a decent story. Sometimes it is nice to see stories that are from the point of view of normal humans interacting with super beings that they have no idea are super beings. The two girls are the typical modern day high school girls which is to be expected. Of course, Gail being a super for long forgot how to act in front of non-supers. That just adds to the awkwardness of the entire story. Oswalt does keep things awkward, but manages to make it not cringe or interfere with the lore. The art is fine. The character designs look nice with nothing that stands out or is horrible. The colors are the best thing about the art. If it weren't for the colors the artwork would be pretty bland and not worth looking at.
While black and white comics aren't terrible (manga is 99% black and white and some have amazing art) but there needs to be something that makes readers want to look at it even if it is black and white. Patton Oswalt's story in the first issue of "Black Hammer: Visions" is fine all around. It has some high notes but not enough to make it above Ok with the art being the same. It's not a terrible comic, just don't expect anything that'll stay with you for years to come.