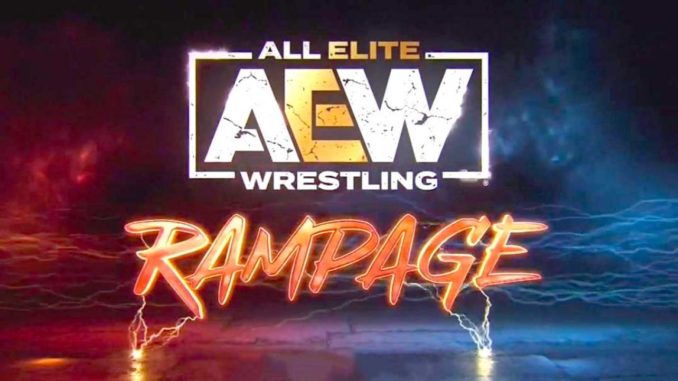 Rampage started off at the top of a roller coaster this week and then slowly let us down from there. But just being at the top for that first third of the show and seeing those views made me feel like Drake for a minute. Go out of your way to watch the opening match! But let's talk about the other stuff that happened too…
Honorable mentions; Bryan Danielson and Adam Cole. They both cut promos that made me think a rematch from that thrown together SmackDown in 2019 is on the horizon and you could mainline that right into my arm please! Bryan made it clear he wants Omega but knows he'll likely have to go through The Elite first. The Lucha Bros. also get a spot here for double super kicking Chavo. Who doesn't want to see Chavo taken out?
5. Jon Moxley: Brian Pillman Jr. won the main event of Rampage and the phrase "Bless his heart" has never been more applicable. I'm sure Pillman is a nice guy and he might be a great wrestler one day. But oh boy, that day is not today. I'll preface this by saying; I would be an awful professional wrestler. I tried. I trained for a couple of months but I was too afraid of getting hurt. Pillman looks like a guy wrestling scared. Twice he went for top rope moves and both times he looked shaky and uncomfortable. He just kind of fell down rather than jumping down. But he won anyway. After the match he was jumped by Bowens and as The Acclaimed double teamed him Jon Moxley ran in to make the save and send the crowd home happy. Moxley gets the 5 slot for redeeming this main event.
4: Riho & Kris Statlander: Sure it was technically a trios match but if I listed all 3 women together Brian Pillman would make this list. And I can't have that. So Riho & Statlander get the nod first. Not only were the on the winning side of things they showcased some fun double team moves including Statlander walking to the center of the ring from the corner with Riho on her shoulders for Riho to deliver essentially a top rope stomp in the middle of the ring. If AEW adds a women's tag division like they seem to be building towards I'd love to see the duo I'm dubbing Alien Magic near the top of that ladder.
3: Ruby Soho: Picking up her second win in a week in the aforementioned trios match, Soho is on a roll to start her AEW career. She scored the pinfall on Rebel (not Reba) to send a message to Britt that Baker's Championship run is on borrowed time.
2: Pac: MATCH. OF. THE. YEAR. Alright, that might be an exaggeration. I can think of probably 5-7 matches off the top of my head I'd rank over it this year. But the fact this is even in the discussion and in my top 10 at the moment is a testament to what these guys went out and did. At a time when AEW fans hand out "This is awesome!" chants like The Bachelor handing out roses on the first episode these guys truly deserved it. They started hot and never let up. They moved fast, hit hard and flipped often. The ending saw Chavo nail Pac with an ipad while the ref was distracted by the other unnamed guy aligned with Andrade doing his best Scott Hall at Starrcade 98 impression threatening to use a taser. If you haven't read my past NXT UK rankings I don't mind shady finishes when they're done well and this was done well. And I absolutely adore that this seemed to perfectly set-up a rematch down the line.
1: Andrade El Idolo: His decision to attack Chavo after the match was confusing. Did he want to get the win clean? If that's the case why'd he leave with the guy with the taser? Was it because Chavo couldn't lure the Lucha Brothers to his side? Let's just hope we get some answers next week. Everything before he hit Chavo though?! BRAVO! This was one of my favorite matches I've seen all year. Not just on TV but period.