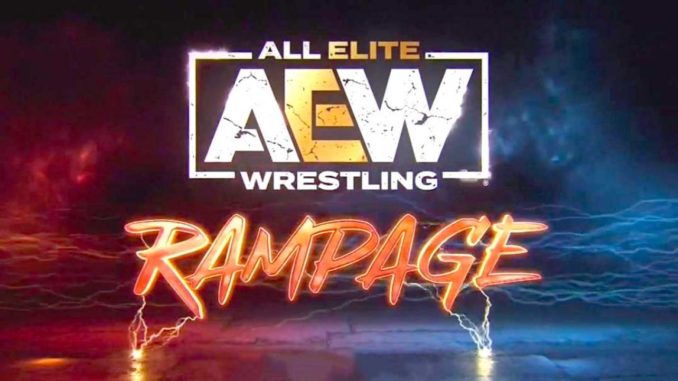 Check out this week's AEW Rampage Power Rankings as the brand prepared for ROH's Final Battle
Honorable Mention: The Briscoes and FTR. Final Battle was fine but wouldn't have been worth $40 if not for the awesome war between The Briscoes and FTR. Despite no story build to their trilogy match the contest itself was every bit as brutal and enjoyable as I had hoped and more. I understand why the networks don't want The Birscoes on TV after what Jay said years ago but man are they just an all time great team in the business. Deadline gets a nod because the Iron Survivor matches were so much more fun than I could have expected. It felt like it combined the best parts of the Royal Rumble and gauntlet matches and created a really unique, fun match that I can't wait to see more of! 25 minutes of wrestling has never gone by that fast for me! And I have to heap so much love on New Day v. Pretty Deadly! My first-ever Power Rankings for this site over a year ago had Pretty Deadly at #1 and New Day are one of my favorite tag teams ever so I was glad that was every bit as fun as I'd hoped. New Day winning was a genuine surprise and the 4 way Eddie Guerrero belt spot had me literally clapping like a trained seal in my living room in front of my friend who looked at me with a hybrid of embarassment, confusion and disdain. 
5. Stokely Hathaway. After commentary congratulated Hook on the 1 year anniversary of his debut we cut to Stokely Hathaway who introduced us to the Zapruder film. The "Keisha Zapruder film" which showed the biggest atrocity that was committed on November 18th when Hook beat Lee Moriarty but footage from the crowd showed Hook's leg not being totallt under the rope. The clip had a note on the bottom that said "Shout out to my homegirl Keisha for the footage" and Hathaway said there will be justice for Lee "By any means necessary" before telling the camera to cut and him shouting to Keisha off screen asking her if she wanted to go to Waffle House because he still had some of that MJF money left. Hathaway is comedy gold. I love the guy. And a Lee v. Hook rematch could be fun.
4. Lee Moriarty and "Big Bill" Morrisey. Right off the bat "Big Bill" is leaps and bounds better than W. Morrisey. W. Morrisey sounds like a lawyer but "Big Bill" sounds like an 80s wrestler and that' what Morrisey is much closer to being as a character. They made quick work of some local talent and won with a chokeslam from "Big Bill" I still miss Enzo. I will die on the hill that Enzo needs to be on TV but Moriarty and Hathaway will have to do as replacements for now. I'm a sucker for big guy and little guy pairings so I'm all for this team. I also appreciate that with these 2 and Lethal/Jarrett duo AEW has added some new pairings to the tag scene to freshen things up. I also can't complain about anything that gets Moriarty on my TV more because I do think he's just as talented and promising as Garcia, Wheeler and that class of guys. 
3. Hikaru Shida. Shida defended her Regina Di Wave Championship against The Bunny in the second match of the night. After some miscommunication that caused Bunny to hit Penelope Ford with a kendo stick Shida was able to retain her title with a katana kick. After the match Jamie Hayter came out and her and Shida grilled each other and we can only assume this match is coming soon and it'll be really good whenever it does. 
2. Orange Cassidy. With Mox and Takeshita opening the night Cassidy wasn't tasked with shouldering the show like he has recently but still added another solid main event to his resume this time taking on Kib Sabian's hand-picked opponent, fellow countryman, the debuting Trent Seven! "Handsome Granny" has done some great work in NXT UK over this past year and his heel run was just heating up as the brand shut its doors. They had a fun spot early in the match where Trent stopped Cassidy from doing his pockets shtick and instead placed his hands near his lips and turned him to face the camera so they could do stereo mustache twirl taunts. I'll never stop being impressed with how many funny, creative things they come up with involving Cassidy's signature stuff. After some back and forth and another "This is awesome!" chant from the crowd Orange won with an Orange Punch and Beach Break. The show ended with Sabian jumping Cassidy and Dustin Rhodes coming out to even the odds. I'm not crazy about a Cassidy and Dustin pairing but I can get behind Sabian and Seven as a tag team. Can we call them "S Club Seven"? Please? But after announcing 2023 as the last of his career I'm not opposed to Cassidy v. Dustin as one of the final matches of his career. Though I really, really wish WWE would okay the 1 night only use of the full-on Goldust persona because that would be a hoot with Cassidy! 
1. Jon Moxley. The default leader of the BCC opened the show against Konosuke Takeshita in a rematch from their Fyter Fest clash earlier this year. This was hard-hitting from the jump as they fought to the outside and brawled through the fans. Don Callis was looking on from his box seats and commentary said he's been scouting Takeshita but questioned if he could also be looking at Moxley. In a return to form Moxley got busted open by a big boot while seated against the corner barricade. Mox piledrove Takeshita in the ring but Konosuke came back with a big lariat, a DDT on the apron and a slingshot DDT into the ring for 2. Mox planted a running Takeshita with a King Kong lariat of his own but his attempt to follow up was countered with a backslide, a knee to the face and a sheer drop brainbuster for 2. This brought out the "This is awesome!" chants and I tend to agree. Moxley fought out of a rolling German suplex attempt and tried for a choke but Takeshita caught him with a Blue Thunder Bomb for 2. He followed up with a deadlift German but again only got 2. Takeshita tried a frog splash but Mox got the knees up and hit the hammer and anvil elbows followed by a Death Rider which only got 2! I watched this show twice (well, really listened the first time) and still bit on the Death Rider! Mox hit a jumping knee of his own for another near fall. He stomped the face of his opponent and tried an armbar but Takeshita rolled through and stomped him himself. Mox caught him with up kicks and forearms to the neck as the crowd booed. He locked in the bulldog and Takeshita started to fight up as the crowd loudly chanted "Takeshita!" before he finally collapsed and passed out. The crowd booed Mox but loudly cheered Adam Page coming out after the match. Page said Doc Sampson won't clear him tonight because of his brain so he has a good excuse if he's not thinking sgraight tonight. He took a shot at Mox and they brawled around the ringside area before the BCC tried to break them up. But Mox sent Page head first into the post as commentary acted concerned. This match was fantastic and the post match, while unnecessary, did add fuel to Page v. Moxley. You'd think the Page cheap shot after a tough, long match would make him the heel but the crowd was firmly behind him and Mox tossing him into the post seemed to solidify Mox as the heel and Page as the face here but the door is open for it to go either way. Could we see a Lights Out match with these two soon? The Callis angle is interesting too. Takeshita getting a mouthpiece coukd vault him to true main event status but Mox aligning with him could make him a mega heel too even if I personally like Mox as the loner heel. Whatever happens this was the best Rampage match in a while and opened the door for some stories going forward so it was an absolute win! Which has been rare for this show lately.